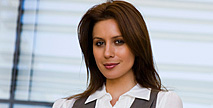 At Your Service Office Solutions

offers Virtual Assistant services through advanced technological modes of communication and data delivery on a contractual basis. We are dedicated to providing exceptional customer service for small businesses and professionals.

Pat Marshall is an administrative professional who served as an Administrative Assistant during her 28 years in the public sector.

Pat's experience and relentless commitment to customer service places her among the most sought after administrative specialists in the industry.

Actively participating in community efforts, Pat often provides her skill set to various organizations throughout the community.
What is a Virtual Assistant?
A Virtual Assistant (typically abbreviated to VA, also called a virtual office assistant) is an entrepreneur who provides professional administrative, technical, or creative (social) assistance to clients from a home office. They usually work for other small businesses, brokers and consultancy groups. It is estimated that there are as few as 5,000-8,000 or as many as 35,000 Virtual Assistants worldwide; the profession is growing in centralized economies with "fly-in, fly-out " (FIFO) staffing practices 1

1: http://en.wikipedia.org/wiki/Virtual_assistant
Our Goals
We strive to create an environment in which both our businesses can grow and prosper.
We have a direct interest in making sure our clients are happy with the service we provide.
We have a better understanding of the small business arena than full-time employees or temporary staffing.
We are dedicated to providing exceptional customer service.